Bernstorff Slotshave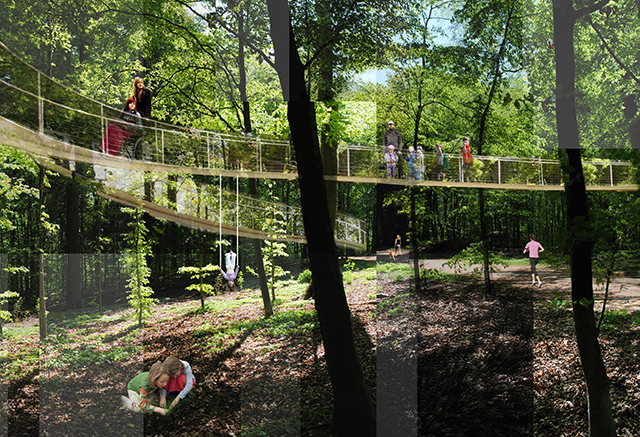 To see the invisible

Bernstorff Palace Garden is a 60-hectare area in the Municipality of Gentofte, and is an important cultural and recreational green space. The Agency for Palaces and Cultural Properties, the Municipality of Gentofte, the Nordea Fund and the Danish Foundation for Culture and Sport Facilities have explored the possibility of developing the palace garden with room for both existing and new activities.

How much, or rather how little is needed to create new opportunities for activities in Bernstorff Palace Garden? How can a transformation process create new ways to see unresolved potential in the existing landscape? And how can simple measures surprise and transform?

The programming is not an upending of "the site's spirit," but rather a tool which, along with the architectural concept, should make the invisible visible. This naturally implies the need to make a decision about which of the garden's spatial and physical elements must be enhanced and which must be toned down. In this way, we create an understanding of the garden and its cultural-historical value that is new and at the same time recognizable.

The spatial reading of the landscape is the starting point for the proposed transformation that, with a few simple steps, will transform the experience of the existing one. New opportunities for activities occur with an architectural measure that unites and creates new links and synergies between experiences, culture, history, learning, exercise, health, play and nature.

Three architectonic strategies come together to create a unique site-specific synergy and are at the same time robust enough to be able to develop separately:

1: Reinforcement of three primary landscape spaces: High Park, Meadow Park and Agri Park
The experience value is strengthened with an architectonic strategy about three different landscape spaces.
The park is centrally located in the Municipality of Gentofte and is surrounded by the municipality's many institutions, and with the future landscape gets new boundless spaces to unfold and learn about nature, and access to spaces for various forms of physical activity.

2: Establishment of a performative grid – the new romantic garden
The romantic garden consists, in addition to boundless landscape spaces and views, of "hidden" surprises that affect the mood and the emotions of the individual.

In the future Bernstorff Palace Garden, an architectonic and artistic grid gives new possibilities for physical unfolding and room for reflection, learning and contemplation. The structure of the grid creates surprising locations that operate independently from the Palace Garden's space and infrastructure. Temporary and seasonal exhibitions, art installations and applications give the park a novelty value and variability, which makes it attractive beyond the city limits.

3: Development of main buildings as event spaces
The existing buildings create unique settings for a wide range of events – from evening classes to nature guidance, celebrations and conferences. There is also space for national, regional and local initiatives, and the proximity to the station makes the facilities easily accessible.

The future Bernstorff Palace Garden informs a performative transformation of the site's potentials, where pragmatic readings of the landscape's spatiality are fundamental for the staging of activities and play for children and adults. The Bernstorff Palace Garden cannot, unlike most other historical gardens on Zealand, be linked to one particular historical period, but is a polyexposed landscape garden with influences from various historical periods, and with romantic landscape features being dominant.

The nature and experience values arise in a spatial reading of the landscape and in the park's buildings, which organize the palace garden for three essentially different landscape spaces: a grid structure, event space and in association with the buildings. Every spatial reading requires different forms of play, activity and learning independently.

Facts:
PROJECT: Urban space
YEAR: 2013
STATUS: Program proposals, proposals for invited contest
CLIENT: Agency for Palaces and Cultural Properties, the Nordea
Fund, the Danish Foundation for Culture and Sport Facilities, Municipality of Gentofte
LOCATION: Municipality of Gentofte